Donor challenge: Your generous donation will be matched 2-to-1 right now. Your $5 becomes $15!

Dear Open Library Supporter,

I ask you only once a year: please help Open Library today. Most readers can't afford to give, but we hope you can. The average donation is $45. If everyone chips in $5, we can end this fundraiser today. Right now, a generous supporter will match your donation 2-to-1, so you can triple your impact. All we need is the price of a paperback book to sustain a library the whole world trusts. We're dedicated to reader privacy so we never track you. We never accept ads. But we still need to pay for servers and staff. For 22 years, my dream has been to build the library of everything and make it available to everyone. I know we could charge money, but then we couldn't achieve our mission: a free library for the whole internet. Our readers borrow seven ebooks per minute and download 2.5 million texts per day. Open Library is a bargain, but we need your help. If you find our site useful, chip in what you can today. Thank you.
—Brewster Kahle, Founder, Internet Archive

Donor challenge: Your generous donation will be matched 2-to-1 right now. Your $5 becomes $15!

Dear Open Library Supporter,

I ask you only once a year: please help Open Library today. The average donation is $45. If everyone chips in $5, we can end this fundraiser today. Right now, your donation will be matched 2-to-1, tripling your impact! All we need is the price of a paperback book to sustain a library the whole world trusts. We're dedicated to reader privacy so we never track you. We never accept ads. But we still need to pay for servers and staff. For 22 years, my dream has been to build the library of everything and make it available to everyone. I know we could charge money, but then we couldn't achieve our mission. Open Library is a bargain, but we need your help. If you find our site useful, chip in what you can today. Thank you.
—Brewster Kahle, Founder, Internet Archive

Donor challenge: Your generous donation will be matched 2-to-1 right now. Your $5 becomes $15!

Dear Open Library Supporter,

I ask you only once a year: please help Open Library today. The average donation is $45. If everyone chips in $5, we can end this fundraiser today. Right now, your donation will be matched 2-to-1, tripling your impact! All we need is the price of a paperback book to sustain a library the whole world trusts. We're dedicated to reader privacy so we never track you. We never accept ads. But we still need to pay for servers and staff. For 22 years, my dream has been to build the library of everything and make it available to everyone. I know we could charge money, but then we couldn't achieve our mission. Open Library is a bargain, but we need your help. If you find our site useful, chip in what you can today. Thank you.
—Brewster Kahle, Founder, Internet Archive

Donor challenge: Your generous donation will be matched 2-to-1 right now. Your $5 becomes $15!

Dear Open Library Supporter,

I ask you only once a year: please help Open Library today. Most readers can't afford to give, but we hope you can. The average donation is $45. If everyone chips in $5, we can end this fundraiser today. Right now, your donation will be matched 2-to-1, tripling your impact! All we need is the price of a paperback book to sustain a library the whole world trusts. We're dedicated to reader privacy. We never accept ads. But we still need to pay for servers and staff. Open Library is a bargain, but we need your help. If you find our site useful, chip in what you can today. Thank you.
—Brewster Kahle, Founder, Internet Archive Donation TypeChoose an amountSelect a payment method
Select a payment method
lock Your credit/debit card will be securely processed

Maybe Later
Thanks for donating. Would you consider becoming a monthly donor starting next month?
Monthly support helps ensure that anyone curious enough to seek knowledge will be able to find it here. For free. Together we are building the public libraries of the future.
Enter your monthly amount
$
Donate ♥ New Feature: You can now embed Open Library books on your website!   Learn More Edit Last edited by Open Library Bot April 14, 2010 | History 1 edition of IFLA 112-114 found in the catalog. Add another edition?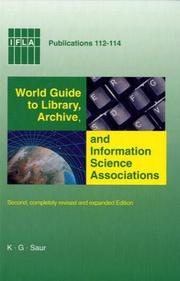 IFLA 112-114 Marko Schweizer IFLA 112-114
Are you sure you want to remove
IFLA 112-114
from your list?
IFLA 112-114
World Guide To Library, Archive, and Information Science Associations (Ifla Publications)
2 Rev Exp edition
About the Book
There's no description for this book yet. Can you
add one
?
The Physical Object
Format Hardcover Number of pages 510 Dimensions 8.5 x 6.3 x 1.3 inches Weight 1.8 pounds
ID Numbers
Open Library OL9067091M ISBN 10 3598218400 ISBN 13 9783598218408
---
Prefer the physical book? Check nearby libraries with:
---
Buy this book
Amazon
$14.65 (used)
Better World Books
---
Share this book
History
Download catalog record:
RDF
/
JSON
/
OPDS
April 14, 2010
Edited by
Open Library Bot
Linked existing covers to the edition.
December 15, 2009
Edited by
WorkBot
link works
April 30, 2008
Created by an anonymous user Inital record created, from an
amazon.com
record
. Wikipedia citation
Copy and paste this code into your Wikipedia page. Need help?