3,700 people were arrested during Iran protests, lawmaker says
By Sheena McKenzie, CNN
Updated 1421 GMT (2221 HKT) January 9, 2018
Chat with us in Facebook Messenger. Find out what's happening in the world as it unfolds.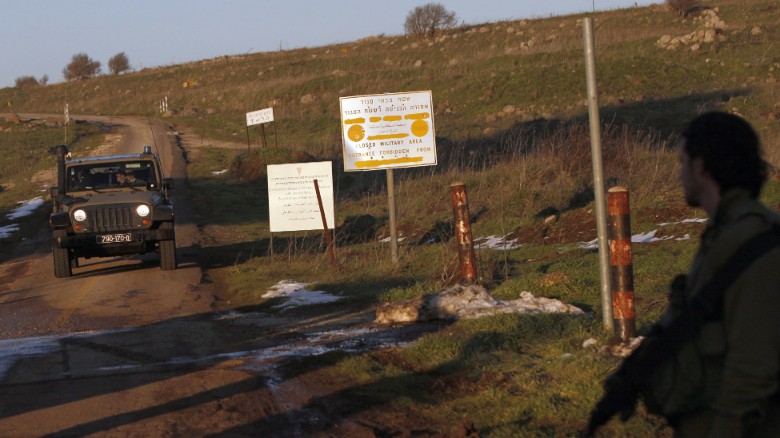 JUST WATCHED

Israel: Iranian forces fire rockets at Golan Heights
Replay
More Videos ...
MUST WATCH
(15 Videos)
(CNN)Roughly 3,700 people were arrested during recent anti-government protests in Iran, one of the country's lawmakers claimed on Tuesday.

The number is far higher than the 450 people Iranian authorities previously said were detained. US officials had put the number held at 1,000. Tehran member of parliament Mahmoud Sadeghi said Tuesday that 3,700 people had been arrested, including 40 to 68 students, in six days of protests that broke out in late December. He added that "due to the fact that several security organizations had made the arrests, it will take some time to give an accurate count," according to the Iranian parliament's news agency.
Students protest at the University of Tehran on December 30. The new figures come as Iran's Supreme Leader Ayatollah Ali Khamenei said Tuesday that the country had struggled for 40 years against attacks on "the revolution" and would not be daunted now. He made the remarks during a speech commemorating protests against the Shah of Iran in 1978. Read More "Revolution politically uprooted the enemy and now the enemy continues these attacks but always fails and cannot achieve its goals," said Khamenei in a speech made before thousands in Tehran, according to the semi-official MEHR News agency. "This is due to our people's continued support. The solid people's stand will again tell the US, UK and those who live in London that you failed this time and will fail again." UK Foreign Minister Boris Johnson told the British Parliament Tuesday that "it is vital that the people of Iran and government of Iran should understand that we in this country support right to peaceful demo within the law." He also urged the UK's "friends in the White House not to throw away" a nuclear deal with Iran that Trump has pledged to decertify.
Tear gas is seen during protests at the University of Tehran on December 30.
Student dies in custody
Khamenei's speech comes a day after it was revealed that a 22-year-old protester died in prison.
Zakaria: Iran has the ingredients for revolution On Monday, state-run Aftab News reported that Sina Ghanbari died in custody after being held in Tehran's notorious Evin Prison along with hundreds of other protesters. The University of Tehran was working to track and secure the release of its students who had been detained, according to the semiofficial Iranian Students' News Agency. National Police spokesman Saeed Montazer al-Mahdi said Sunday that the majority of those detained had been released on bail, but that "the leaders of the disturbances are being held by the judiciary," the state-run Al-Alam News Agency reported.
Biggest challenge to authorities in years
Here's why the Iran protests are significant The violent clashes, which claimed the lives of at least 21 people, were the biggest challenge to the Iranian government's authority since mass demonstrations in 2009. The mainly young protesters rallied against President Hassan Rouhani's government, complaining of a stagnant economy, rampant corruption and rising fuel and food prices. Iran's unemployment rate among those 15 to 29 is well over 24%, according to official statistics -- and even higher among urban youth and women.
Washington weighs in
Tehran and Washington have engaged in a fiery exchange of words over US use of social media to encourage Iranians to protest. US President Donald Trump has written several tweets criticizing the Iranian government and encouraging protests, while the US State Department openly announced that it was using its Facebook and Twitter accounts in Farsi to encourage anti-government demonstrations. Correction: This story has been updated to clarify that Khamenei spoke in Tehran on Tuesday.

CNN's Joseph Netto, Alireza Hajihosseini, Seb Shukla and Angela Dewan contributed to this report