Skip to Main Content

< Access and Purchase Resource Centre
Oxford Journals Archive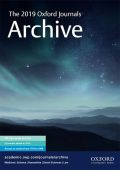 The Oxford Journals Archive enables the researchers of today to explore changes in academic thought over more than two centuries, placing present knowledge in context. It comprises the earliest content available through to the end of 1995. The 2019 Oxford Journals Archive features 251 journals across five subject archives: Medicine, Science, Humanities, Social Sciences, and Law.

If you do not have access to these journal backfiles, contact our Library Sales team for flexible pricing to suit your institution, including upgrade options. You can subscribe to or purchase the full Archive of 251 journals or a subject archive. You can also purchase journal backfiles on a title-by-title basis.

Explore what makes the Archive special with our 2019 brochure, including full title lists, or find out more with our video summary below.

4 journals join the Archive in 2019:
American Journal of Health-System Pharmacy
The Economic Journal
Military Medicine
Shakespeare Quarterly
Upgrading to the 2019 Oxford Journals Archive
If you have purchased the Oxford Journals Archive or a subject archive in a previous year, your library users may be missing out on highly influential scholarship that puts present knowledge in context. Find out how you can upgrade your archive by contacting your account manager or contact our Library Sales team. Explore recent additions to the Archive for the journals that you may be missing.
Near Archive
The Near Archive enables you to complete your library holdings through online access to high-quality journal content. This once-only purchase option provides you with perpetual access to content published between 1996 and 2017. Please note that the Near Archive period is already available to a journal's current subscribers. The Near Archive is available as a package deal, or on a title-by-title basis. Contact our Library Sales team for flexible pricing to suit your institution.
Perpetual access and digital preservation
When you purchase perpetual access to archive content, you can have the confidence that Oxford University Press is safeguarding the excellent scholarship of the past in order to serve the scholars of today and in years to come. In addition, Oxford Journals participates in key archiving agreements with Portico, and the LOCKSS and CLOCKSS (Controlled LOCKSS) preservation initiatives from Stanford University. These agreements mean that we will be preserving not only an exact copy of journal content but also ensure the usability of the archived content over time by migrating the files to future file formats.

Please note that a subscription to the Oxford Journals Archive or a subject archive does not include perpetual access rights. If your subscription were to end, so would your access to this historic content.
Connect
Useful links
Latest Tweets
Copyright © 2019 Oxford University Press
Connect
Resources
Explore
Oxford University Press is a department of the University of Oxford. It furthers the University's objective of excellence in research, scholarship, and education by publishing worldwide
Copyright © 2019 Oxford University Press
This Feature Is Available To Subscribers Only
This PDF is available to Subscribers Only
For full access to this pdf, sign in to an existing account, or purchase an annual subscription.