Skip to Main Content

Article navigation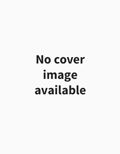 Volume 158 Issue 6 December 1988
Polymerase Chain Reaction
Gerald Schochetman AIDS Program, Laboratory Investigations Branch, Center for Infectious Diseases, and the Division of Training, Training and Laboratory Program Office, Centers for Disease Control , Atlanta, Georgia Please address requests for reprints to Dr. Gerald Schochetman, Centers for Disease Control, 1600 Clifton Road, NE, Building 1, Room 2385, Mail Stop 012, Atlanta, Georgia 30333. Search for other works by this author on: Oxford Academic PubMed Google Scholar Chin-Yih Ou AIDS Program, Laboratory Investigations Branch, Center for Infectious Diseases, and the Division of Training, Training and Laboratory Program Office, Centers for Disease Control , Atlanta, Georgia Search for other works by this author on: Oxford Academic PubMed Google Scholar Wanda K. Jones AIDS Program, Laboratory Investigations Branch, Center for Infectious Diseases, and the Division of Training, Training and Laboratory Program Office, Centers for Disease Control , Atlanta, Georgia Search for other works by this author on: Oxford Academic PubMed Google Scholar The Journal of Infectious Diseases, Volume 158, Issue 6, 1 December 1988, Pages 1154–1157, [doi.org] Published: 01 December 1988
Cite Citation

Gerald Schochetman, Chin-Yih Ou, Wanda K. Jones; Polymerase Chain Reaction, The Journal of Infectious Diseases, Volume 158, Issue 6, 1 December 1988, Pages 1154–1157, [doi.org]

Download citation file:

---

© 2018 Oxford University Press
Advanced Search
Article PDF first page preview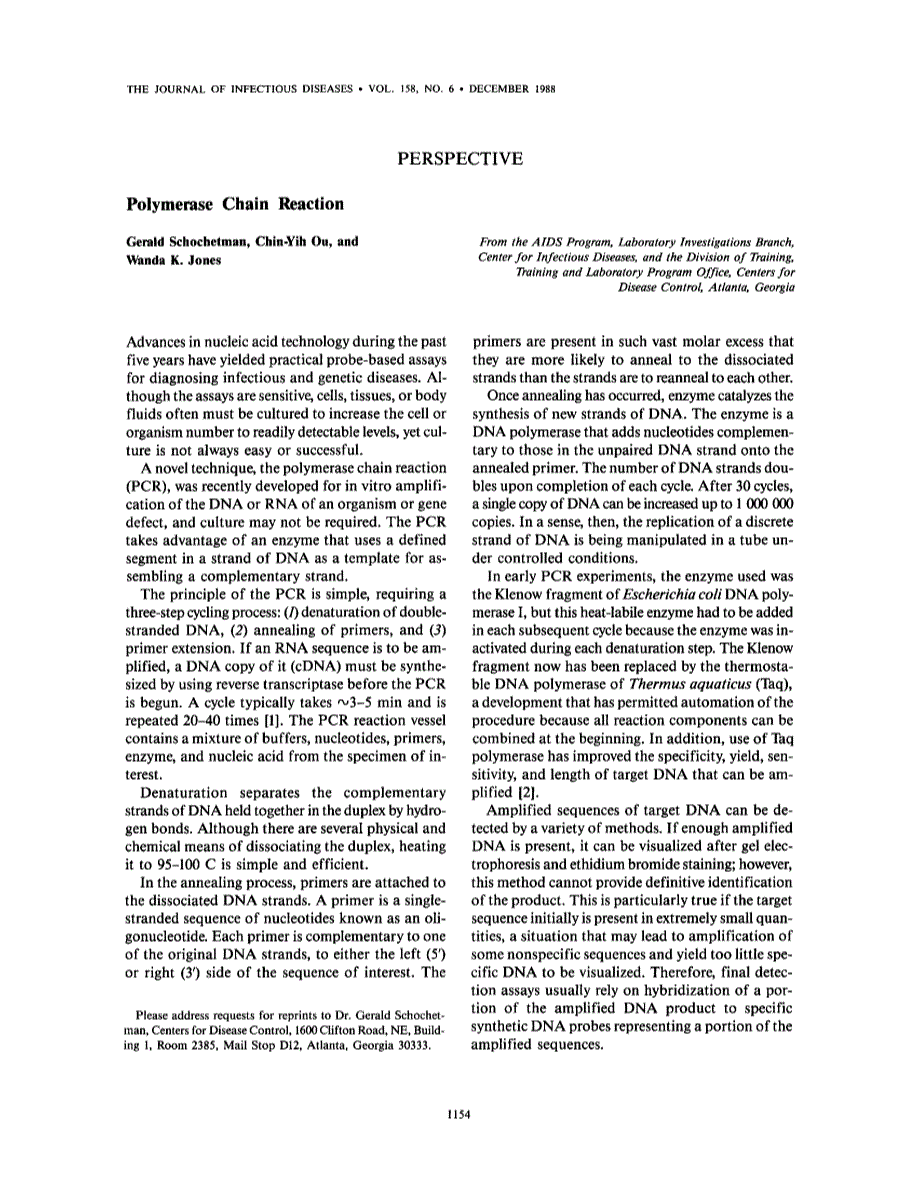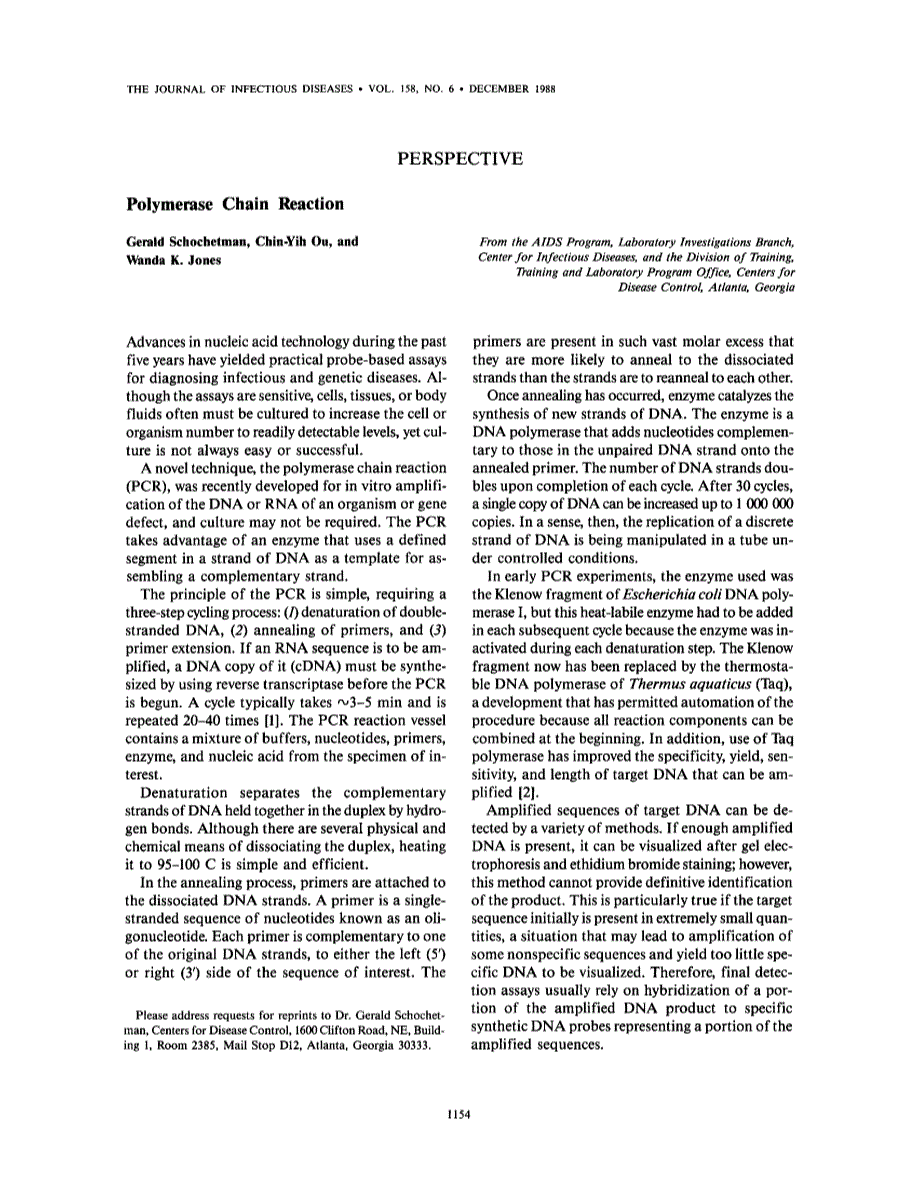 This content is only available as a PDF. © 1988 by The University of Chicago Topic: Perspective You do not currently have access to this article. Download all figures
Sign in
Don't already have an Oxford Academic account? Register You could not be signed in. Please check your email address / username and password and try again.
Oxford Academic account
Forgot password? Don't have an account?
Email address / username
Most users should sign in with their email address. If you originally registered with a username please use that to sign in.
Sign in via your Institution
Sign in
Purchase
Subscription prices and ordering
Short-term Access
To purchase short term access, please sign in to your Oxford Academic account above.

Don't already have an Oxford Academic account? Register

Polymerase Chain Reaction - 24 Hours access EUR €35.00 GBP £27.00 USD $44.00
Rental
This article is also available for rental through DeepDyve. 135 Views 112 Citations View Metrics ×
Email alerts
New issue alert Advance article alerts Article activity alert Receive exclusive offers and updates from Oxford Academic
More on this topic
Respiratory Viral Coinfections Identified by a 10-Plex Real-Time Reverse-Transcription Polymerase Chain Reaction Assay in Patients Hospitalized With Severe Acute Respiratory Illness—South Africa, 2009–2010 Disseminated Varicella Infection Caused by Varicella Vaccine Strain in a Child With Low Invariant Natural Killer T Cells and Diminished CD1d Expression Ultra-Deep Pyrosequencing of Hepatitis B Virus Quasispecies from Nucleoside and Nucleotide Reverse-Transcriptase Inhibitor (NRTI)–Treated Patients and NRTI-Naive Patients Identification of a Novel Single-Stranded DNA Fragment Associated with Human Hepatitis
Related articles in
Related articles in PubMed
Actin, alpha, cardiac muscle 1 (ACTC1) knockdown inhibits the migration of glioblastoma cells in vitro. A specific haplotype in potential miRNAs binding sites of secreted frizzled-related protein 1 (SFRP1) is associated with BMD variation in osteoporosis. Studies on the anti-aging activity of a glycoprotein isolated from Fupenzi (Rubus chingii Hu.) and its regulation on klotho gene expression in mice kidney. Outbreak of microsporidial keratoconjunctivitis associated with water contamination in swimming pools in Taiwan.
Citing articles via
Web of Science (112) Google Scholar CrossRef
Online ISSN 1537-6613
Print ISSN 0022-1899
Copyright © 2018 Infectious Diseases Society of America
Connect
Resources
Explore
Oxford University Press is a department of the University of Oxford. It furthers the University's objective of excellence in research, scholarship, and education by publishing worldwide
Copyright © 2018 Oxford University Press
This Feature Is Available To Subscribers Only
This PDF is available to Subscribers Only
For full access to this pdf, sign in to an existing account, or purchase an annual subscription.