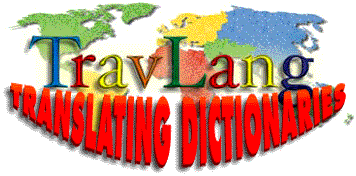 ---
---
75% of all download sales on our new site are going to supplies for Puerto Rico
Platiquemos Spanish Course with Pimsleur Combo Pack
French with Ease Assimil - Learn French quickly
Afrikan language in a flash 9 languages on a flash drive for only $75
---
Travlang's Translating Dictionaries


German, Deutsch


Finnish, Suomi


Dutch, Nederlands


Norwegian, Norsk


French, Français



Frisian, Frysk


Spanish, Español


Afrikaans


Portuguese, Português



Hungarian, Magyar


Italian, Italiano



Czech, C^esky


Danish, Dansk


Polish


Swedish, Svenska


Esperanto


Latin, Latina


Turkish
---
Other Online Dictionaries
---
---

---
---
Travlang's Foreign
Language for Travelers
---
---
---
Travlang Pivacy Policy We collect and store: the name of the domain and host from which you access the Internet,
the IP address of the computer you are using; the browser software you use and your operating system;
the date and time you access our site; and the Internet address of the website from which you linked directly to our site.
We use this information to measure the number of visitors to the different sections of our site. If you choose to identify
yourself by sending us an email or by subscribing to our mailing list. We keep your address on file for correspondence
purposes. At this time we do not share this information with anyone, but may in future, if there are products, services
or information that may be of interest to you.
©2007 TL Online,. Inc.. All rights reserved. trademarks are owned by the respective company and it's DBA Travlang Online, Inc.
[email protected]